Really! Did I win?
I just got a phone from Marianne Bergskaug, leader of the

Norwegian Assosiation of Jewelery Designers (NAJD).

She called from the dinner at the annual meeting of the organization where IGJ Design is a member. I received the very nice message from a happy bunch of jewellery designers with sparkling bubbles in tall glasses …: I won!
Oh so nice! And I should have been there together with them:)
I won the ring concept: Forever Individuals. Made in 925 sterling silver
This is the competition:
Design contest 2018: "Us two together".
Design and make a set of wedding rings. This year's competition is called "Us two, together" and we want to see your creative interpretation of wedding rings. The two rings, through design, represent two different individuals that will be united. In other words, the rings may be different, but they must have a connection either through material or concept. You can choose materials yourself and need not be functional. We are looking for a good combination of creativity, good workmanship and exciting concept.

 My work is called "Forever Individuals" . This interpretation shows two very different rings, which, when assembled, make up the silhouette of a diamond. A symbol often associated with marriage and lifelong love.
«Forever Individuals» tries to reflect contemporary expectations of marriage. By providing room for individual differences, a modern relationship can last.
Respect, honesty and equality is now the basis for long-term relationships, not the subservience that lies in your "Forever yours" as it was common to ingrave in wedding rings earlier.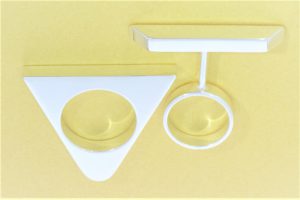 I am very grateful for the prize, but also for NAJD to arrange such design contests. They are important because claiming in such a competition gives a quality stamp to customers, dealers, and delinquents.
IGJ Design, like other Norwegian jewelry designers, relies on selling in order to develop the craft.
Feel free to take a look at the jewelery found in this online store.
IGJ Design's jewelry is in its entirety Norwegian produced with an environmentally friendly profile.
Perhaps you find something delicious you could wish for? I guarantee to always strive for a high design and craftsmanship level of performance!